About Me
My name is Hannah de Spon
I'm a graduate from the Glamorgan Centre for Art and Design Technology (GCADT) where I got a First in Traditional 2D animation. I studied in Wales but live in North London. While my first love is hand drawn animation I also have skills in Flash, Photoshop, Macromedia Freehand, Maya and Animo. I'm always ready to learn, and have extended my skills to include illustration, design, photography, character design and development, and scrap-book making.
As well as working for animation companies I have also worked in website and logo design, and have recently finished a year long contract as an Artist in Residence at a private primary school in Hertfordshire. During that time I taught animation and digital art techniques to children from year 3 to year 8. I also have experience of working with children from the Chickenshed Theatre Company in North London.
I'm fascinated by all aspects of the animation industry, including festivals, galleries and the history of animation. I often write articles for ASIFA's UK publication 'Dopesheet'.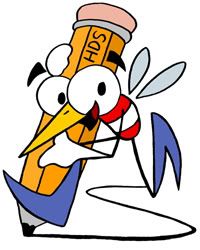 The name and character of 'Dizzy Mosquito' I came up with as a child and decided to use later as a watermark signature on my personal artwork. He is now my patented logo.
If you are interested in a CV or showreel of my work please feel free to contact me: hannah@dizzymosquito.co.uk